VIP Menu
Get ready for a high quality culinary experience; fresh from the farm and hand made in our at our Markets!
Best Suggestions - Pie Minister Pies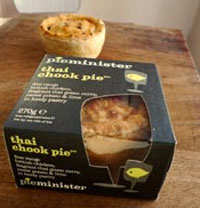 Thai Chook Pie.
Free range British Chicken, Fragrant Thai Green Curry, Sweet Potato & Lime in lovely Pastry.
Our story...
Back in 2003 jon and tristan started making pies. They fed them to their friends and took them to music festivals. People loved them and wanted more. Later that year they opened a café, reinventing the pie and mash shop. The pies won lots of awards and became friends to the stars. Even HM the queen had them for her Christmas party in 2005. More cafés followed and today their delicious food can be found in some of the finest food halls, delis and restaurants across the country.
Recommended Recipes
MUSKOKA - GREECE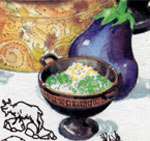 '
(Baked Aubergine with Minced Beef)
Brown aubergine and potatoes in oil, drain and set aside. In 2 tablespoons melted butter, saute onion and meat until brown.
Add parsley and tomato sauce; simmer for 10 minutes.
In a greased 13 x 9 x 2-inch baking dish dusted with bread crumbs, alternate layers of potatoes, aubergine and meat mixture, repeating and ending with aubergine. Mix flour and remaining butter. Stir: over low heat until thick. Add milk gradually until mixture thickens, stirring constantly. Cool.
Beat egg yolks and mix with grated cheese and nutmeg; add to sauce. Beat egg whites until stiff; fold into sauce. Pour sauce over layers and bake at 350 degrees for 45-55 minutes or until golden brown. Serves 10-12.
Ingredients:
2 large aubergine, sliced and salted
3 large potatoes, peeled and sliced
2 fl. oz. olive oil
6 tablespoons melted butter
2 large onions, chopped
1 pound minced beef
4 oz. copped parsley
8 fl. oz. tomato sauce
2 oz. bread crumbs
2 oz. flour
16 fl. oz. milk
2 eggs, separated
2 oz. cheese is will deflate slightly).
More to come each week
Suggested Menus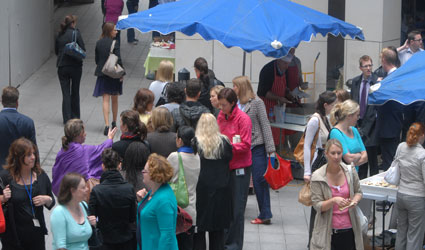 Chinese Noodles
Chicken Lo Mein makes a great lunch, dinner or late night snack
Traditionally, this dish is made with thin lo mein noodles (available in Asian markets).





Lunchtime Foods
We Recommend Lebanese Foods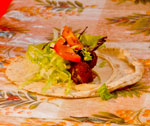 Lebanon is where the Arab world meets the Mediterranean and its food has all the virtues of what is now often described as The Mediterranean Diet.
Our food is naturally healthy. It uses the highest quality produce of sun, soil and sea: grains and pulses; vegetables grown for flavour rather than size; olive oil; cheese and yoghurt; herbs and spices. We eat fish and meat (mainly poultry and lamb) but they form a smaller part of our diet than has been common in the west.
Our food offers a lot of choice to those who prefer a vegetarian diet and we have many vegetarian customers.