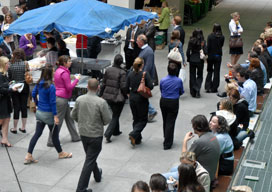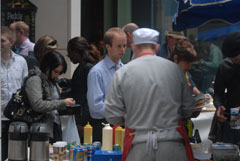 Taking Part
Our Stall Associates are the essential part of our markets. We provide the locations and make all the necessary arrangements to present the market in the most suitable manner. We expect stall holders to present their produce and wares in good time and ready for the opening time of each market. Help is provided if essential facilities are required like electricity, (where we have invested in a large silent portable generator).
IMPORTANT MARKET CONDITIONS: It is important that you read our conditions before sending in an application form. If you have any queries, please email us or telephone the office to have them clarified. The 2010 PAYMENT conditions are particularly important to note. Click Here
Requirements.
Stall holders are expected to obtain their own insurance and amenities. Stall Holders are also expected to turn up if they have booked a spot, or agreed to attend a market. We only keep spaces for a limited period at each market and then we fill them in order to provide a good presentation to the public.
Special Stall Rate for Craft Stalls at Christmas.
SCraft Stalls will be able to availe of a spceial Stall rate of 40 euro for the Xmas Markets on the 7th, 8th, 9th, 10th December and on 14th, 15th, 16th 17th December.
We provide an application form, information on insurance and also current stall prices. (These may change from time to time).
It is essential that you complete our application form and forward it to us, when applying for a stall for the 1st time. Click Here
Fire Regulations are very important. Click Here for our regulations.
Insurance: We are constantly getting enquiries regarding insurance for stalls. We layout here the essential information we have and we can now supply. Click Here
Cool Foods
Championed by award-winning chefs Dublin City Markets brings a stellar line-up of local food and beverage producers together under one roof. Each week sees new foods in the Underground Kitchen, fabulous wine tastings, event previews, book signing, chef demonstrations, and entertainment.
Multicultural Stalls

Dublin is a multicultural city with a population more than 1.5 million. People are settled here from different parts of the world and made it a Global City. There are African, Greek, Irish, Asian, Japanese, Caribbean, Turkish, Polish, Middle Eastern, and Jewish cultures which have made an amazing contribution to London. London is home to resident communities from over 90 countries.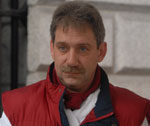 Frank's German Sausages
I'd rather be eating Bratwurst - says Frank, who cooks one of the best German Sausages around. You certainly need to be there to taste one. "We deliver - you enjoy!" says Frank. Frank also provides facilities for BBQ's, home parties, and if you visit his website you can see a whole range of deserts and other goodies.
www.franksgermansausages.com
. Or you can call Frank on 085-7851471
Featured Stalls and Foods